Ginn Sr. on bus tour stop at MSU: 'Mel is family'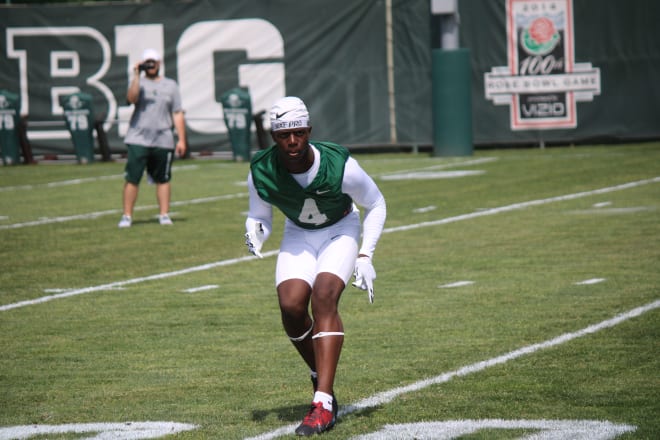 Cleveland Glenville football coach Ted Ginn Sr. has been shepherding youth football players from Cleveland to college campuses around the Midwest on his annual summer bus tour for the past 25 years, with the exception of last summer when the NCAA halted on-campus recruiting due to the COVID 19 pandemic.
With restrictions lifted, Ginn and his Glenville staffers are back one the road once more. On Thursday, the bus tour stopped at Michigan State. The bus tour will make additional stops at Cincinnati, Tennessee State, and Ohio State in the coming days.
"When we started we were in a van," said Ginn, who is also the director of Ginn Academy, an all-boys public school in Cleveland focused on providing structure and resources to students that need additional help not available in a traditional learning environment. "Now, we are in a charter bus. It's just a great opportunity for the kids to showcase themselves."
Through the bus tours, Ginn has helped hundreds of young men gain the exposure necessary to open doors for themselves through athletics. Dozens of his student athletes have found success as college football players. Several of that number have made it to National Football League.
It remains to be seen how many of the youngsters crisscrossing the Midwest on the current bus tour will one day play college football. This year's bus tour group is substantially younger than some of the other groups Ginn has taken on the road in past summers.
"I've got a lot of young talented kids," Ginn Sr. said. "Taking a year away from these kids was tough, but they want to be out there moving and learning. They are hungry for knowledge and learning how to work on their techniques. That's what college camps are all about, learning and being touched by college coaches. Hopefully, they'll take some of the things that they've learned at these camps back to our school."
The bus tours are more than an opportunity to increase athletic exposure. They are a tool for personal growth, as well as an opportunity to show young people what is possible through setting goals and working toward them.
"Education is not about what somebody teaches you, but what you are exposed to," said Ginn. "Who is going to teach the life skills necessary be successful beyond athletics? We use football to engage with young people and to help them develop the life skills they need to be successful in corporate America."
'MEL IS FAMILY'
For Ginn, Michigan State was an obvious choice for a tour stop given his longstanding relationship with Spartan head coach Mel Tucker, whom he considers family.
"Mel Tucker is the reason we are at Michigan State," Ginn said. "I've been knowing Mel since he was about nine years old. It has been special to see his career grow like it has, with him being the head coach at Michigan State, we have to stop here. It's like home for us, and Mel is family. We have to support this school."
Ginn's first recollection of Tucker, who grew up in the Cleveland Heights neighborhood, was of the Michigan State coach as a young man hanging out in his store with other young people.
"He used to come in my store and eat candy," Ginn Sr. said. "I have a store in University Heights and he was going to Cleveland Heights. We were the only little candy store in the area, and he used to come in there like all the other kids."
In Tucker, Ginn noticed a drive and passion to be successful at whatever he did long before the Michigan State coach made a name for himself as a star defensive back at Wisconsin, and then as a coach in the college and NFL ranks thereafter.
"I've always looked at him as having a drive to be the best," Ginn said. "The thing that is hard to find in this profession are guys like Mel that have that drive to be the best, but still love the kids he is coaching. Mel is old school in that he still puts kids first. That means the world to me as somebody working with young people."
In Tucker, Ginn sees a football coach that has not sacrificed the values he grew up to find success.
"Mel has never forgotten where he came from," Ginn Sr. said. "He knows the importance of having relationships with young people, and he understands that being the leader of a football program gives him an opportunity to serve. It gives him an opportunity to put a spotlight on him and show the children he works with what their life can become."
Ginn felt satisfaction when he learned that Tucker was taking over as the head coach of Michigan State.
"It was huge moment, and it was deserving," Ginn said. "Mel has been in the game for twenty-something years and been successful at every level. It's something that he worked for, and deserved. It's a great opportunity for him to implement his philosophy of winning while loving kids."
Ginn's belief in Tucker helped pave the way for Michigan State to sign Glenville defensive back Michael Gravely in the Class of 2021.
At 6-1, 185, Gravely is the type of hard-working, physical, and intelligent football player that can help Tucker build the Michigan State program back to where it was at the height of the Dantonio era.
"Michael is tough kid, a great athlete and student," Ginn said. "He is a tough and physical kid and we expect great things out of him. I've let him know that he needs to always remember where he came from because he is the example for the next generation."