MSU scored points with 4-star Georgia TE Jelani Thurman, more visits coming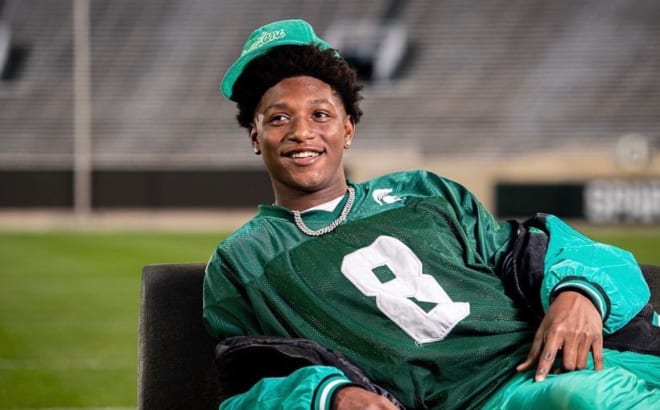 With Jelani Thurman's recruitment heading into his next round of official visits, thentight end from Georgia doesn't have to go far for advice on how to handle it.
Thurman, a four-star recruit, ranked the No. 22 player in Georgia for 2023, took an official visit to Michigan State last weekend, and is traveling to Auburn for an official visit this weekend.
His parents, Kara Braxton and Odell Thurman, were standout athletes at the University of Georgia, and played extensively in the WNBA and NFL.
Jarvis Jackson, Kara's husband and Jelani's stepfather, was a middle linebacker at the University of Georgia.
All of them are veterans of the recruiting world.
Braxton was a nationally-rated recruit when, as a native of Jackson, Mich., she signed with Georgia in 2001.
"I just told him to look at everything when he makes his visits," said Braxton, who joined her son during his official visit to Michigan State last weekend. "I tried to stay back and out of it because this is not my decision, this is not me, and I didn't want to have a lot of input on it."
Thurman, a physical, athletic, 6-foot-6, 225-pound tight end with excellent hands, is scheduled to take official visits to Alabama and Ohio State for the final two weekends of June to close out the month's recruiting period.
"I just tell him to go somewhere where you feel comfortable, somewhere where you feel the people are actually genuine, somewhere that you can see yourself playing for the next three to four years, not anyone else," Braxton said. "I don't have to play for them. We don't have to be in his shoes. We just want him to find a place where he feels comfortable."
Jelani Thurman's phone has been blowing up with interview requests this month. To give Jelani a break from those interviews, Ms. Braxton was kind enough to give SpartanMag some interview time on Thursday evening. She reiterated that the official visits are for her son, not herself.
"This isn't for me, it is more for Jelani," she said. "He saw the campus. He was able to relax and talk to some of the current players and former players and also the coaches. He took a lot in from the weekend and learned a lot about the campus, the kids, the program, the school."
Michigan State scored points in the comfort department.
"Everybody was kind, nice and very attentive to my family," she said. "We really enjoyed it.
"It's right up the street from home. That always makes it nice."
Braxton returns to her hometown of Jackson several times each year. Jelani was born in Jackson.
"My whole family lives in Jackson; my sister, my brother, all of my aunts and uncles, my mother, all of my cousins," she said. "Some are sports-oriented, some aren't. I think they were just excited about the possibility of him (Jelani) coming close to home for college. The ones that do know a little bit about sports are excited. Mel Tucker has really turned the program around. So they are excited about the possibilities for the program and for Mel as the head coach."
Braxton grew up less than 40 minutes from the Michigan State campus.
"I know a lot about Michigan State but at the same time I don't know a lot about Michigan State," she said. "It was close, but I never actually went to games or anything like that."
Michigan State's third-year head coach, Mel Tucker, made a good impression during the visit.
"I liked him," Braxton said. "I enjoyed him. I didn't know a lot about Mel Tucker, but I see the press and I try to follow up on the coaches and where they came from. He has a great track record at the universities he has been prior to Michigan State - Alabama, Georgia and LSU. He has had great mentors like Nick Saban. I think he brings a lot to the table."
MSU's tight ends coach Ted Gilmore has been a strong point for the Spartans in this recruitment.
"Oh he's awesome," Braxton said. "He's amazing. I talked to him often. He's just a down-to-earth guy. I look at him as more like a father figure. I like his coaching style, and how he says he's going to coach. I talked to other tight ends on the team and they say what you see is what you're going to get and I love it."
THE BASKETBALL ANGLE
Thurman is also a standout basketball player at Langston Hughes High School in Fairburn, Ga.
Kara Braxton was a 6-foot-6 post player for Georgia, and became a first round Draft choice of the Detroit Shock in 2005. She helped the Shock win the WNBA Championship in 2006 and 2008. She made the WNBA All-Star team in 2007.
Jelani inherited Kara's height, along with long arms. Mom helped teach him the finer points of the game. He has good footwork in the paint and quick leaping ability.
Jelani had a photo op in a Michigan State basketball uniform during his visit to East Lansing. That was no mistake.
He has received basketball scholarship offers from Jacksonville State and Stetson in the last five weeks. He is a legitimate power forward prospect.
"Jelani wants to play football and basketball in college, wherever he goes," Braxton said. "He is still a basketball player. He hasn't put the basketball down, he doesn't plan to put the basketball down so he would like to try to walk on to the basketball team at where he chooses to play football."
Tucker and the Michigan State staff told Jelani about Keon Coleman and Maliq Carr playing basketball for the Spartans last season.
"They let me know about that," Braxton said. "It's just something to keep in mind. He (Jelani) loves the sport. I'm not going to take that away from him. He's looking at schools that are not going to take that away from him, either, and we'll see how it goes."
Tom Izzo spoke with Jelani and Ms. Braxton over the phone during the official visit.
"Izzo was out of town," she said. "He was in California following Draymond Green in the Finals. We talked to him on the phone while Jelani was there doing the photo shoot. He was nice. It's just exciting times right now."
The energy continues this weekend with the trip to Auburn.
"I think he's pretty excited," Braxton said. "He has only went on one official visit, so he is not burned out. He's used to being on the go, playing football and basketball all the time. We'll see after this weekend. I think he is enjoying it.
"I don't really bug him about it too much because there is a lot going on right now and he has visits going on every weekend to different schools. I just try to let him breathe and make his own decisions. The only thing I ask him is, do you feel comfortable here? And do you see yourself playing here? And he said yes. That was his first visit.
"He still has three or four more, so we'll see but our impressions of Michigan State's coaching staff and Mel was great. We had an awesome weekend. It was comfortable and we enjoyed ourselves."
When asked if she thinks this will be a difficult decision for him, or if one school will rise to the top as the clear choice, Braxton said:
"I think that's what he is looking for. I think these visits play a big part in his decision, so it just depends how he feels when he goes on campus, how he feels around the boys, the coaching staff, the university. I think it's on them for these weekends coming up."