Spartans land big Texas O-Lineman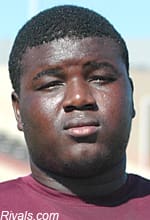 Michigan State received a verbal commitment from big Texas offensive lineman
Caleb Benenoch
, SpartanMag.com learned on Tuesday afternoon.
"Verbal to MSU," Benenoch informed SpartanMag.com with a text at 3:11 p.m.
And later Benenoch confirmed, "Yes, I have spoken to Coach Dantonio and let him know. He said he was excited and he really wants me to come up there and I will, but it's something I've wanted to do and I didn't want to wait anymore. When you know, you just know."
Benenoch, of Katy (TX) Seven Lakes High School, also had BCS scholarship offers from Kansas State, West Virginia and Ole Miss. He was hearing from schools like Arkansas, Oklahoma and Nebraska.
The 6-foot-6, 321-pound Benenoch went on to say the following.
"I just could not wait any longer, Michigan State is where I wanted to be so I pulled the trigger," he stated. "Michigan State is getting a player who is hungry to win and be the best. I am looking forward to an amazing 4 years there."
Benenoch is looking forward to getting up to East Lansing so he can check out the campus and develop even more rapport with the coaching staff and his future teammates. He talked about the reaction he got from the Spartan staff.
"I spoke with Coach Dantonio and Coach Staten and they were both excited," Benenoch said. "I will be speaking with Coach Staten extensively later on tonight."
Benenoch's commitment is huge for a team that needs to address the offensive line position well in the class of 2013. Benenoch's ability to project at either tackle or guard at the next level was a big positive in his recruitment by the Spartans. That versatility should allow him an opportunity to work his way into the two-deeps early on in his playing career. Benenoch told SpartanMag.com the following less than a week ago.
"I do not mind leaving (Texas) at all," he stated. "I am looking for a great atmosphere and I can be comfortable with the players and the coaches. I want a family atmosphere. I also want to be part of a program where I can win and I will have a chance to make an impact as far as playing time."
It looks like Benenoch was able to find all those variables in the Spartan program. You can be sure that the Michigan State staff will be asking thw newest member of the Green and White to help them recruit some additional Texas standouts in the coming months.