DaChairman Unplugged: Class of 05 Better Than 04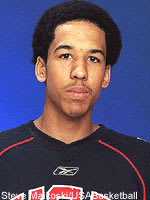 I keep hearing that the class of 2004 is better than 2005, or this is a down year for recruiting because the class of 2005 is not as talented or as deep as 2004. I keep hearing this but I'm still not buying it.
Some might say 2005 is a down year but I ask - for who?
NBA owners, GMs and executives?
Another Top 10 recruiting class for Duke, right?
Wrong.
The NBA decided that it would anoint the 6-foot-6 170-pound Livingston and make him a millionaire before his 19th birthday. Another potential star plucked before even getting the chance to develop and shine in college.
So let me rephrase my question: is 2005 really a down year for college recruiters?
Let me come right out and say that no one should begrudge any of these young men for taking the money. If the NBA is willing to pay millions of dollars to kids who are talented but still unproven – why shouldn't they take it?
At 5-foot-11 and 160 pounds Sebastian Telfair is an excellent talent but is he really better equipped to run an NBA team than College Player of the Year Jameer Nelson or even Big Ten player of the year Devin Harris?
Hey, if someone thinks I'm talented enough and wants to pay me millions based on my potential, I'd be crazy not to take it. And please notice I used the word "talented" rather than "good" because there's a big difference in potential and realized potential.
And don't even mention the LeBron- word because he is the exception rather than the rule. LeBron James is the best 18 year old basketball player ever. (unless you ask Lenny Cooke).
College basketball recruiting has been raided by the NBA and there is no end in sight. An age limit? Why would the NBA do that?
The NBA is doing fine as is. Yes, it would help the college game to have more talented players go to school, and probably help the NBA by having more seasoned players in the league. But since when has it been David Stern's job to care about what's best for the college game? And why would he want more seasoned - but not as marketable - veterans in the league? An age limit?
I'll believe it when I see it.
COMPARASON
Look at the class of 2004. There are a total of
13 high school players
that have declared themselves eligible for the NBA draft. And it is expected that at least nine will be drafted either in the first round or somewhere close to it. And some think Stern is going to help add an age limit?
But looking at the class of 2005 you have only three kids - at this point - who are viewed as legitimate NBA prospects – stud wing forward
Tasmin Mitchell
, versatile
Keith Brumbaugh
and slick wing
Martell Webster
. (And yes, I deliberately left out
Brandon Rush
).
Outside of those three, ahem – four, it is expected that everyone else will end up playing college ball, which is good for the game. How can a true college basketball fan want to see the best players go straight to the NBA? It would make more sense to want as much talent in the college game as possible.
No, we may never see a once-in-a-generation talent like LeBron James play college ball, but I don't mind watching a player like Ben Gordon grow, develop and eventually dominate for a three-year career.
LONG TERM vs. SHORT TERM
Once upon a time MSU head coach Tom Izzo landed a gifted power forward out of Marion, Ind., named Zach Randolph. One year later - after helping Michigan State to another final four - Randolph bolted for the NBA.
But what if Izzo had turned away Randolph and taken less-heralded Detroit native Arthur Johnson, who started four years at Missouri?
Would that have been the better long-term move for the Michigan State program?
Maybe.
But would Michigan State have gone to the Final Four with Johnson and without Randolph in 2001?
Probably not.
Many fans that follow recruiting also have an interest in the college game. So for the true college basketball fan you should perhaps rethink what makes up a "good class." There's nothing wrong with landing a Carmelo Anthony as long as you realize that if he does play for you, he'll be gone after one season. The Syracuse program is still in good shape.
For Syracuse coach Jim Boeheim it was worth bringing in 'Melo for a year. But let's ask Memphis head coach John Calipari if it was worth going after Dajuan Wagner. Should I mention JUCO big man Qyntel Woods, a close friend of Randolph's playing for the Portland Trailblazers, who committed to Memphis only to be taken as a lottery pick before playing for the Tigers.
How did landing talents like Wagner and Woods help the Memphis program? Seems like a longer-than-expected rebuilding process to me.
So let's evaluate what makes up a good recruiting class:
NBA potential –or– college impact?
LeBron James or Ben Gordon?
When looking to build a program I think it might be time for college coaches and fans to get excited about the Ben Gordons and leave the LeBrons alone.
Hosey Jr. is a a writer for Spartanmag.com. If you would like to discuss this topic or voice your opinion on any other subject visit the Spartanmag.com Message Board.